Bedford Ohio Garden Center
Gift Cards
Order American Turf Garden Center eGift Cards from the link below.
CLICK HERE
---
American Turf is a Garden Center based in Bedford, Ohio. Our nursery stock is carefully selected from dependable local growers to ensure you will only find strong, vibrant evergreens, flowering trees, shrubs, perennials, & annuals for your landscaping needs.
Evergreens
We carry a large selection of evergreen trees & shrubs which are essential to any Ohio garden, because winter is such a long season for us. Varieties of spruce, pine, arborvitae, juniper and more are available at our garden center.
Flowering Trees and Shrubs
When in bloom, flowering trees are an awe inspiring sight! We also carry a nice assortment of non-flowering trees. The right selection of flowering shrubs can keep your yard in color all season.
Specimens
To create unique focal points in your garden, we offer a superior variety of ornamental specimens. You can choose from a collection of evergreen topiaries, Japanese Maples and weeping trees.
Perennials
We carry low maintenance, easy perennials, as well as unique varieties. We bring in fresh plants throughout the season to assure that you'll always find something new.
Houseplants
Our selection of houseplants continues to expand. Dish gardens, hanging baskets with trailing plants, make great long lasting gifts.
Bulk Materials
Mulches: Double Shredded Hardwood Bark, Color enhanced red, black, and brown hardwood mulches and leaf Humus.
Soils: Our bulk soil is a blend of Ohio's native sandy loam with rich organic humus, composted locally, then screened to ½ inch. We also offer soil & compost blends for your flower & veggie beds.
Stone: We carry limestone & washed river gravels in a variety of sizes as well as large boulders.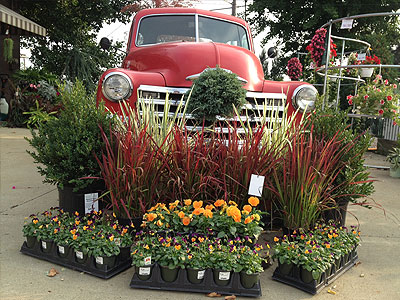 Ask About:
Landscape Design
Lawn Care Supplies
Delivery
Installation
Estimates
Tools
Bagged Goods
Garden Accents
Annuals
Mums
Container Gardens
Vegetable Plants & Herbs